In this tutorial we will break down how to create and save your own presets inside of Lofi Panda.
First, let's take a look at the preset browser and how it is organized. This is important to know before you begin saving new presets.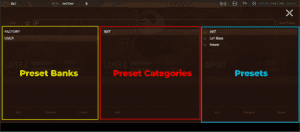 The preset browser is broken down into three columns. The left column being the preset banks, the center being categories, and the right column being the presets.
Creating & Saving Presets From Scratch:
Open up the preset browser inside of Lofi Panda
Select the USER preset bank
Select the INIT category & select the INIT default preset
Close out of the preset browser and begin designing your preset. The INIT preset is a blank preset.
Once your preset is ready open the preset browser again
At the bottom of the preset column click on the 'Add' button. This will allow you to add a new preset.
Name your preset and click save
At any time, if you want to override this preset and save a new version you can do so by clicking the 'Save Preset' button at the top right corner of the preset browser.
Saving An Edited Preset
If you have built off of an existing preset and want to save it as a new user preset you can follow the steps below.
Open the preset browser
Click 'Add' at the bottom of the preset column
Enter your preset name and hit save