Adjusting the size of the Lofi Panda 3 plugin window is a simple and intuitive process. Just follow these easy steps:
After opening the plugin, move your cursor to the bottom right corner of the window.
When you hover over this corner, a white triangle will appear, indicating that you can resize the window.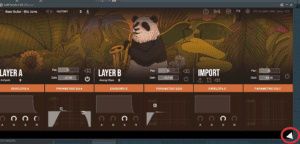 Click on the white triangle and then drag the window to your preferred size. You can make it smaller or larger to suit your needs.
One important thing to keep in mind is that the window size you set will be saved with your presets. If you wish to have a specific preset display a smaller or larger window, simply save the preset with the desired window size. The next time you open that preset, the window size will automatically be the same as when you initially saved it, ensuring a seamless and personalized experience.