The Bedroom Beats Mac installer will install 6GB of content onto your computer. Since this installer has a large file size the time to fully install the expansion can range from 15 – 45 minutes.
Mac Installer Is Stuck On 'Writing Files'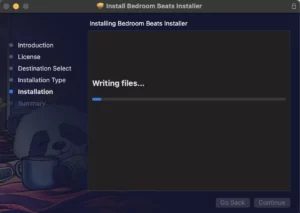 During the 'Installation' step of the installer the beginning step of 'Writing Files' may seem like it is frozen for Approx. 10 – 20 minutes. Please be advised that this step is not frozen or stuck.
This is the step where the installer is beginning to write your files on your computer. The installer needs to double check that the Lofi Panda 3 folders on your computer are setup correctly. This process can take some time so please be patient.
We advise to run the installer in the background while you focus on something else.
To avoid issues do not try to quit the installer during this step. Wait until the installation step is fully complete before attempting to close the installer.
Total Install Time
This installer can take anywhere between 20-45 minutes to fully complete. Please do not interrupt the process during this time.