Lofi Panda 3.2 update addressed common bugs found in the initial 3.0.0 update and also includes some minor upgrades.
What's Been Fixed:
Playback notes glitching bug across multiple DAWs
Garageband and Logic Pro loading issues
Windows GUI font loading issues
What's New:
Lofi Panda 3.2 introduces the expansion tab. With this update you will be able to easily install and choose between expansion packs (expansion packs coming mid August 2023). By default you will have access to the factory expansion pack.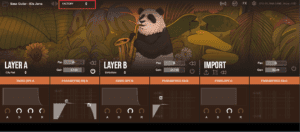 How to properly install the update:
If you purchased Lofi Panda 3 after August 8th, 2023 you will automatically get access to the latest update. If you purchased before this date you need to install the newest version.
Installing the update is as simple as downloading the new installers and running them. You do not need to re-download the samples folder.
However, to avoid issues we recommend removing the Lofi Panda 3 AU and VST files before downloading and running the updated installers.
How to remove Lofi Panda 3.0.0 Files:
On Mac navigate to these folders and remove all Lofi Panda 3 files:
Library/Audio/Plug-ins/VST/*remove any Lofi Panda Files in this folder*
Library/Audio/Plug-ins/VST3/*remove any Lofi Panda Files in this folder*
Library/Audio/Plug-ins/Components/*remove any Lofi Panda Files in this folder*
On Windows navigate to these folders and remove all Lofi Panda 3 files:
C:\Program Files\Common Files\VST2\*remove any Lofi Panda Files in this folder*
C:\Program Files\Common Files\VST3\*remove any Lofi Panda Files in this folder*