Usually, you shouldn't have problems when downloading Lofi Panda 3. But if you are having issues, it's probably because of one of the mistakes listed below.
Not Enough Storage Space
Lofi Panda 3 is quite large—it's about 7GB in size. So, if you want to download it without any problems, it's best to make sure your computer has at least 9GB of free space. If your computer doesn't have enough space, you might face issues while trying to download it.
These problems could include:
The download of the zipped folder not completing properly.
The zipped folder only partially downloading, which might lead to a message saying it's corrupted when you try to open it.
Downloaded files not being able to open correctly.
Weak Internet Speed & Strength
When downloading large files online like Lofi Panda 3 you should do it while connected to a fast internet connection. If you connection is slow or weak the download can take longer than usual. Sometimes, if your internet connection is not strong the file will not properly download. The download might timeout after a certain time and leave you with a partially downloaded file.
To avoid this issue check these steps:
Check your internet speed by googling 'internet speed test' then run the tester provided by google. A recommended speed is about 100mps, 300mps+ will give you the fastest download time.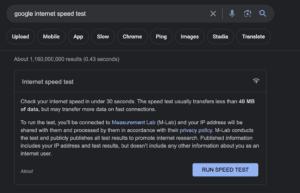 If you are using a internet connection that is below 100mps we recommend switching to another internet connection. If this is not possible you will need to be patient and you will need to make sure you do not interrupt the download process. We recommend stepping away for a bit while it downloads to make sure you do not interrupt the process.
Antivirus Software Blocking Download
If you have antivirus software installed on your computer or in your browser like Chrome this can sometimes block your download and cause it to not download. Check your security settings inside of your browser and antivirus software to make sure it is not blocking your download.
Internet Browser is overloading on cache
Your browser might be overloading on cache which could be slowing down or preventing your download from fully downloading. Inside your your browser go to -> settings -> clear cache and try again.
Alternatively you can restart your computer which will clear all cache or you can try downloading on another internet browser.