Looking to make beats without buying expensive software?
Well now you can easily make beats online. In the past few years many companies have risen up by creating online tools to make beats.
However, not all these platforms will suit your personal desires. That's why we decided to test them out ourselves and list out what we think are the best platforms online for making beats.
Here are the 4 key features we looked out while conducting this list:
Price
Simplicity
Abilities
Functions
So let's get started!
Soundtrap by Spotify provides you with the best features for making beats online. Signing up is free and easy. Once you're signed up you can enter the 'online studio'. The online studio allows you to start a project for music or a project for a podcast!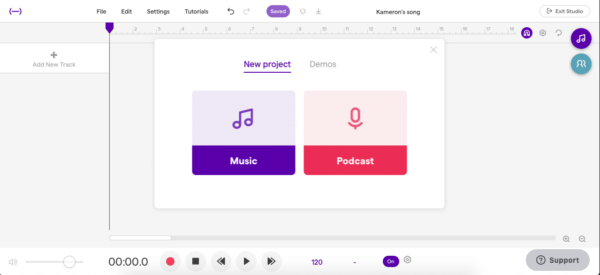 Once you start a music project you're able to make your beats. The overall design for the beat making studio is very clean and simple. This makes it very easy for beginners to learn without getting overwhelmed.
Some key features inside this online beat maker is the ability to; drag in loops, upload your own files, play various instruments provided by Soundtrap, and the ability to invite friends to collab on a project.
The best part about studio trap is its completely free to get started. Then you can get plans for as low as $7 per month to unlock more features.
In conclusion, if your looking for a great place to start making beats online this is a platform we highly recommend.
Loop Labs is another greatly designed online beat maker. Simple, clean, and easy to use. Loop labs share similar features to studio trap such as the ability to load in loops & collaboration. However it seems as the time we're writing this they're still in beta mode. Which means not all features are available yet.
One of the unique features loop labs provides is their library of loops from beat port. This includes loops and sounds from various genres.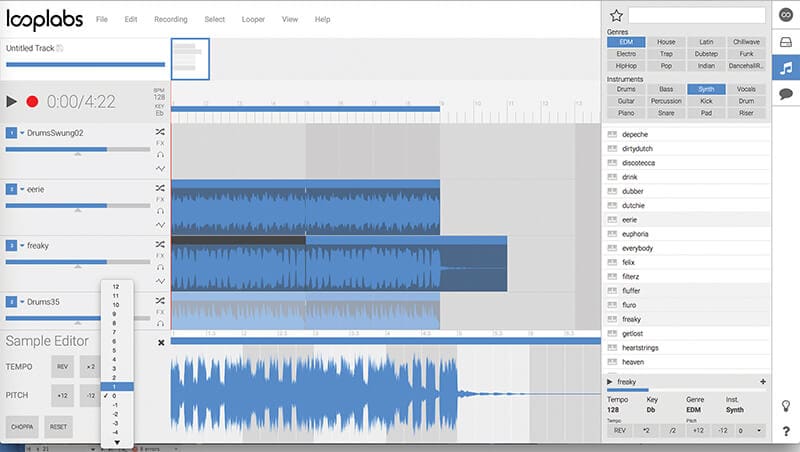 Another unique feature is the ability to remix already existing tracks. This provides beginners the ability to learn song and beat structure. It also gives you a building block to start working off of!
In conclusion, the best part about loop labs is its a completely free collaborative cloud based music studio that lets anyone, quickly and easily make professional quality music. A great free way to make a beat online!
Make a beat quickly with this beat maker. Sampulator is very simple. Using this platform can allow you to make a beat in seconds. It's completely free as well. The con of Sampulator is the lack of functions. It's very straight forward. It gives you the sounds and blocks to make short and simple beats. If you're looking for something quick and easy to use this is the one for you.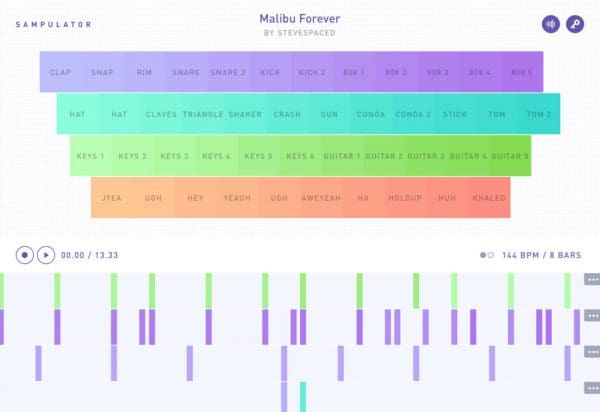 Splice also provides their own online platform for making quick beats. This is another platform that is very simple and easy to use. It features a sleek drum pattern machine that allows you to drag in and use splice samples.

A cool feature for this beat maker is the large variety of samples. However, you need to be a splice member in order to export your beats.
Soundation is another well designed studio for making beats online. You'll have to sign up before using. However, your bond to love the studio once you have an account. You can start off with a demo project which is very useful. If you're just starting to make beats this will help you understand the various elements that go into beat making. This website also allows you to connect various MIDI channels.
Another very interesting feature is the collaboration feature. Inside this online DAW you can collaborate with others in real time. For example, you can start a track and add your friend in to work with you. You can see their mouse curser moving live as you guys work together. This feature is one of my favorite features from Soundation.
Pricing is very fair in our opinion. You can get started with a free account that is limited to 10 tracks. Then pricing is ranged from $2-$9 per month. What we love most about this website is the vast amount of control you have over your beats. It's like the real thing on your browser.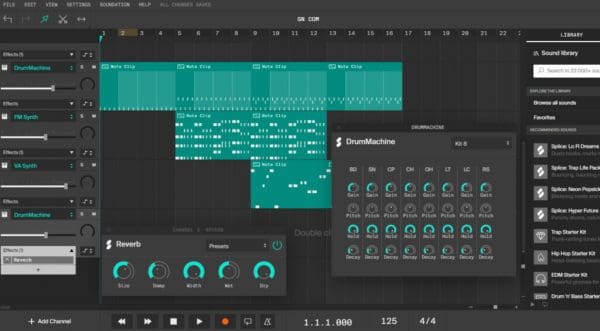 The Audiotool platform is one of the more complex websites on this list. This beat maker is very similar to software DAWs in the fact that it uses well designed plugins.
At first glance you might feel overwhelmed since there is a lot going on once you first sign in. However, a window will pop up with a tutorial once you create an account. We recommend watching the full video so you don't waste time trying to figure out how to navigate the platform.
The best part is this online beat maker is completely free. As long as you have a strong internet connection you can make beats online with this website.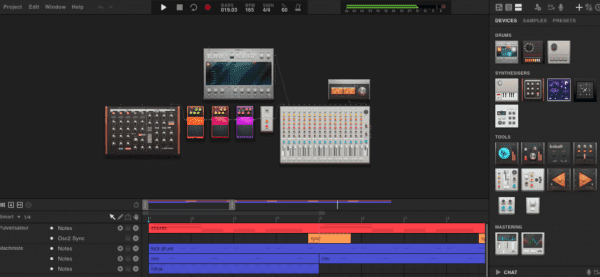 Up next is LANDR's creator tool. Now this online beat maker is a bit different from the rest. First, it's brand new. LANDR released Creator in early 2020. So, it's one of the newest tools to make beats online with on this list.
However, this software focuses on the use of samples. You can quickly piece together loops and samples to make a short beat in your browser. Then, you can download those samples with a LANDR samples subscription. This may be a great tool to find samples, lay out some ideas. Then download and load those samples into another beat maker such as Soundtrap.

Creator is very similar to Splice's online beat maker. However, you get a large pool of royalty free samples not found on Splice. It's free to use but in order to download the sample you'll need a subscription. Subscription prices start at $5.99.
Looking to work on your melody game? Then Signal may be the tool for you. Signal is a free online MIDI editor. This platform allows you to create melodies, edit velocity, pitch bend, and pan all within your browser.
They also give you a bunch of instruments to use including pianos, guitars, synths, sound effects and a lot more. When you're down you can save your file instantly as a MIDI file.
Lastly is Snapjam. Snapjam is another free cloud based platform that allows you to make a beat online. It provides a drum machine, various instruments, and even a place to arrange and mix you're patterns. The design is fairly simple and easy to use. You're allowed to save and share your project as well.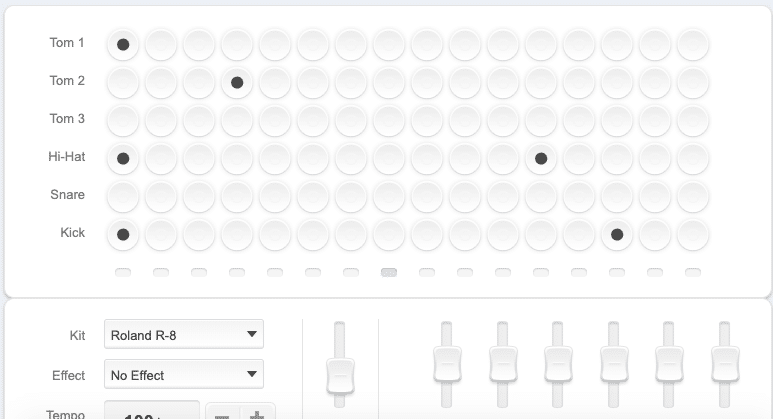 In conclusion, we want to hear from you guys! What do you guys think about these online beat makers? Should we create our own version? What kind of features would you like to see in order to make a beat online.