What is a MIDI Keyboard?
A MIDI controller is a physical keyboard that controls functions in DAWs. In other words, you can physically control plugins, sounds and VSTs with this tool.
This tool helps you speed up your workflow. Plus, your music sounds more natural when it's being played on a keyboard.
In other words, a MIDI keyboard is basically a piano for your computer.
The Best MIDI Keyboards
When putting this list together we decided to divide it in half. One being the best midi keyboards for beginners and the best for professionals. Here's how we broke it down.
Beginner Keyboards:
Budget Friendly
Easy to learn
Professional Keyboards:
Advanced Features
Durability / Lifespan
For Beginners:

Price: $59.00 
The simple compact design of this midi keyboard makes it one of our favorites. As a result, it's great for beginners. If you have a home studio set up this may not be your best bet. In addition, the length is only 18 inches long. However, this is a great purchase for those working remotely or on laptops.
Key Features: 
Sustain Button
Octave Buttons
Includes Pro Tools
Includes Xpand!2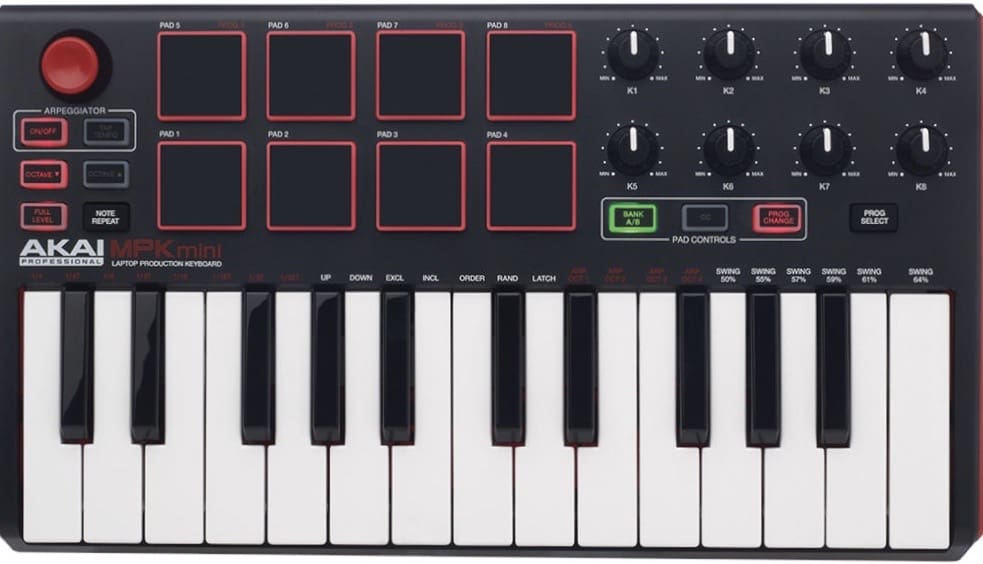 Price: $119.00
Here we have another portable MIDI keyboard. As a result, the MPK mini features 25 keys, 8 drum pads, and 8 knobs. Unlike M-Audio's mini keyboard this one provides you with more control.
Key Features: 
Sustain pedal input jack
8 assignable knobs for mixing

Price: $99
This midi keyboard is another decent controller for beginners. One key feature we really like is the fact that you can connect it to your ipad or smart phone. Therefore, if you use a smart phone app for producing music this may be a good fit. On the other hand, this midi keyboard features 49 keys making it a great addition to a home setup. Although there is no drum pads or additional knobs the design is fairly simple making it easy to learn and master.
Key Features:
Octave LED indicators
Pitch Bend Wheel

Native Instruments is one of the most popular companies when it comes to keyboards. Many producers praise their high quality products. This controller is the smallest one they have right now. One unique feature about this keyboard is how they replaced wheels with touch strips.
Price: $139
Key Features:
For Professionals:

Price: $1,049
Native Instruments raised the bar with this MIDI keyboard. As a result, this is why we believe it to be one of the best on the market right now. Right off the bat this keyboard gives you the feel of an actual piano with it's 88-key feature.
The feature that really makes with controller stand out is the ability to integrate with software. You can browse and preview presets from NI plugins right from the keyboard. This gives you the advantage of a speedy workflow and is allows you to be more 'hands on'.
Key Features:
Advanced integration with you VSTs and plugins
2 high resolution color screens
Comes with 14 premium instruments and effects

Price: $1,200
The Seaboard RISE by ROLI is one of the most innovative midi keyboards on the market. They completely redesigned the traditional keyboard which gives it such a unique appeal.
However, this controller isn't just all looks. Each key holds so much more power than the traditional. With one key you're able to modulate your sound by simply sliding your finger up and down.
Key Features:
Play wirelessly via bluetooth
Comes with a bundle of free software
Innovative design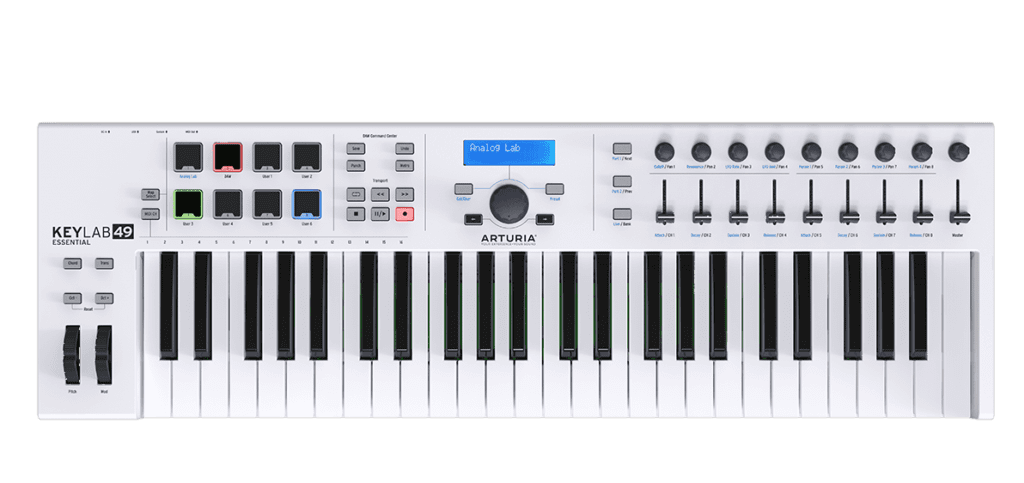 Price: $249
Many musicians have claimed this keyboard to be the best 49 key controller on the market. As a result, we agree if you're more into traditional keyboards instead of ROLI's seaboard.
This controller features 8 performance pads, 18 pre-mapped knobs and faders, DAW command center and much more.
Key Features:
Comes with free software
Over 6,000 preset sounds included
Conclusion
In conclusion, this is our list for the best MIDI keyboards on the market for both beginners and professionals. We will continue to update this list throughout the year with the best MIDI keyboards we come across.
Affiliate disclosure: As an Amazon Associate, we may earn commissions from qualifying purchases from Amazon.com.