Studio monitors may be one of the most important tools for achieving the best quality sound. Whether your making beats or recording.
This is because they give you a wider range of sound. Making it easier to spot out areas that need special attention during mixing.
Professional music studio understand the importance of studio monitors. If you've gotten a chance to visit one you've probably noticed how large and expensive they can get.
However there is a large variety of affordable monitors. Perfect for home studio & bedroom setups. We put together a list of the best studio monitors for 2020.
Here are the 4 key features we looked out while conducting this list:
1. Price
2. Quality
3. Reviews
So, lets dive in!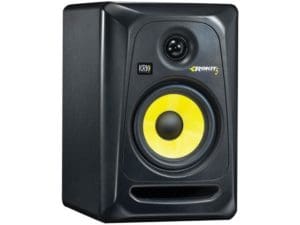 Pair of 2 Price: $300 
Reviews: 4 1/2 stars on Amazon
The Rokit monitors have been the go to for years. And they remain on top for the year 2020 as well! These are by far the most popular studio monitors. The perfect match for someone setting up a home studio.
One major highlight for these monitors is the excellent low-end extension and accuracy. Providing you with a rich punch of sound. They also come in a variety of sizes. Making it easy to fit into any set up.
As a result, this pair of monitors is the best option for an entry level studio set up. You can check out the monitors full specs on the official website here.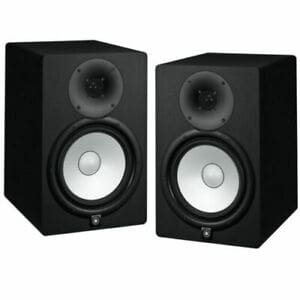 Pair of 2 Price: $700
Reviews: 4 1/2 on Amazon
Yamaha has always been known for its quality products. There studio monitors are no different. The Yamaha HS8 have been becoming more and more popular. These monitors were designed to give you the most precise quality possible. They may be more expensive than others but the quality makes up for it. These speakers also feature a 38Hz – 30kHz frequency response.
As a result, the Yamaha HS8 are a great fit if you're working with a bigger budget.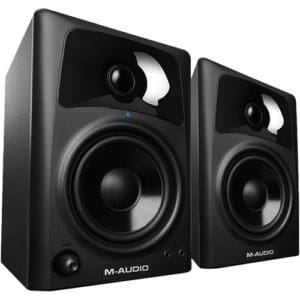 Pair of 2 Price: $150
Reviews: 4 stars on Amazon
M-Audio AV42 studio monitors are one of the cheapest monitors you can find. However, they still provide you with quality. These may be the best option for beginners.
These monitors feature an optimized bass reflex design and OptImage IV waveguides to deliver extended bass and crystal-clear highs. You view the full specs on there official website here.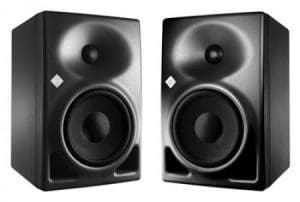 Pair of 2 Price: $1,500
Reviews: 5 stars on Amazon
Neumann has been in business for over 80 years. They first gained popularity from their microphones and product quality. As a result, they still remain a respected brand in 2020.
As of the day writing this, the latest model of studio monitors from Neumann is this pair. The price may scare you a bit but these speakers will provide you with a professional audio experience.
Along with positive reviews online these speakers have also won many awards. You can view the full specs here.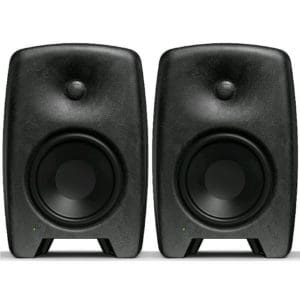 Pair of 2 Price: $3,000
Reviews: 5 stars 
If you've got money to blow on studio monitors this pair may be in your best interest. Some pros of this pair of monitors is:
Accurate, precise and musical.
Tight, fast dynamics.
Solid, uncompressed bass.
Excellent stereo imaging.
Environmental friendly
Conclusion
In conclusion there is a large variety of studio monitors out there. However, these are the best pairs you can get in 2020. Whether you're a beginner or pro one of these pairs can add value to your studio.